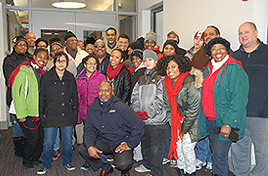 Welcome
Here at the First Baptist Church of Ken-Gar, we practice total reverence for God, excellence in worship, and feasting on the indisputable, powerful Word of the Almighty God. Using the Bible as the basis for everything we do, we continually witness shattered lives being mended, the sick being healed, and victory in the lives of believers.
For a hand-clapping, foot-stomping, Holy Ghost filled experience, come and visit us on this small branch of Zion. You will truly be BLESSED.
Pastor's Corner
No items are available at this time.
Service Times & Location
Sunday School 9:30am
New Disciples Class 9:30am
Morning Worship 11:00am
Bible Study - Wed; Noon & 7:30pm
First Baptist Church of Ken-Gar
3922 Hampden Street
Kensington, MD 20895
PH: 301-942-3423
Deacon:James Cooney,
Chairman of Deacon Board